[kl-bogel] WHY IN MOSCOW can park on the sidewalks(21 photos)
Frankly, the answer to this question I have.
However, I can say that the authorities of the capital have found a very original solution to the problem of parking in downtown.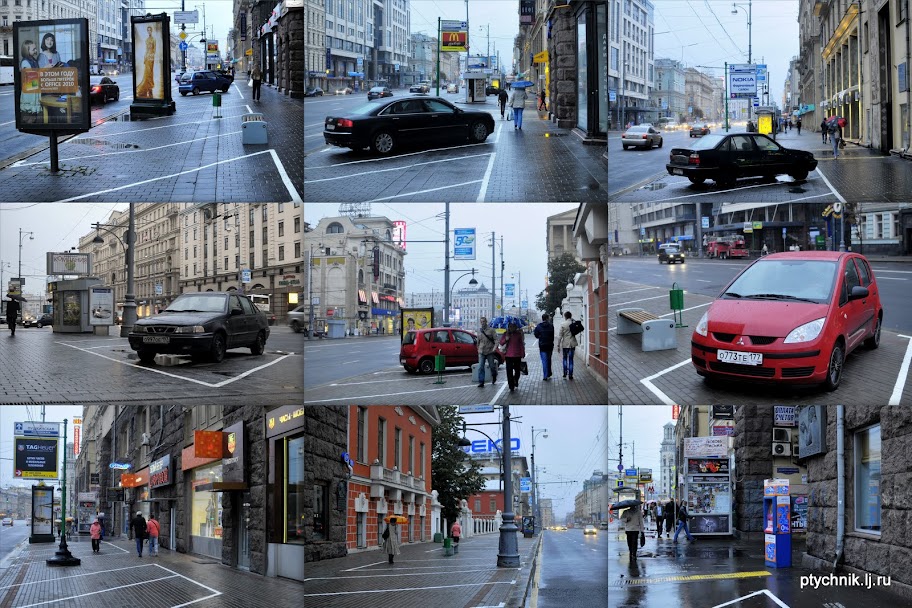 This is a way out of the metro station "Mayakovsky" this morning.
September 12.
Somewhere polvosmogo ...
And it can be said to heart - Pushkinskaya Square.
Between them - 800 meters and 12 minutes on foot.
And I always liked to walk along Tverskaya Street in this place.
But today I saw something from which it became a little uneasy.
Of course, immediately thought of Ilf and Petrov: "The streets by pedestrians, moved into the power of motorists. Bridge were twice as wide, the sidewalks have narrowed to the size of tobacco packages. And pedestrians have become frightened huddle against the walls of homes ..."
That is, if the sidewalks had been made, it is now a parking layout - in fact TROTURE.
And here - the bench.
In the middle of the markup.
First, is not quite clear how the car will stand here, if someone is sitting on the bench.
And vice versa.
Then it became clear (and I once again marveled at how well-organized street we have the space): advertising design does not allow to enter the car, so here - are allowed to sit down to rest a pedestrian.
Exactly - between two cars.
I agree - find a free parking space in the center of the city - a problem, but to solve it so ...
But this is not the park - he is parking.
(I recall that time - 7:35)
And that - convenient.
Previously, such a daring farewell except scooters ...
Another of Ilf and Petrov: "In a big city pedestrians are a martyr's life. For them, entered the kind of vehicle the ghetto ..."
But you can imagine with what self-respecting owner of the parked vehicle ...
But it's Tverskaya - the street with a huge flow of pedestrian traffic.
And if there were no markings - there would be those who do not care ...
But as marked - the question is no longer relevant. Partition-TIMES DOES THIS SHOULD BE ...
People, like sheep to be silent bunch, but wait patiently for their turn to squeeze into the vacant slot ...
For some reason we have so ...
This is because we often care about people ...
Perhaps this is a new Russian democracy ...
That is, as it were so, the brother of Pushkin! ..
--
You received this message because you are subscribed to the Google Groups "kl-bogel" group.
To post to this group, send email to kl-bogel@googlegroups.com
To subscribe or unsubscribe at
http://groups.google.com.my/group/kl-bogel/subscribe
For more options, visit this group at
http://groups.google.com/group/kl-bogel?hl=en
Sebarang email pertanyaan, hantar kepada abangmod@gmail.com