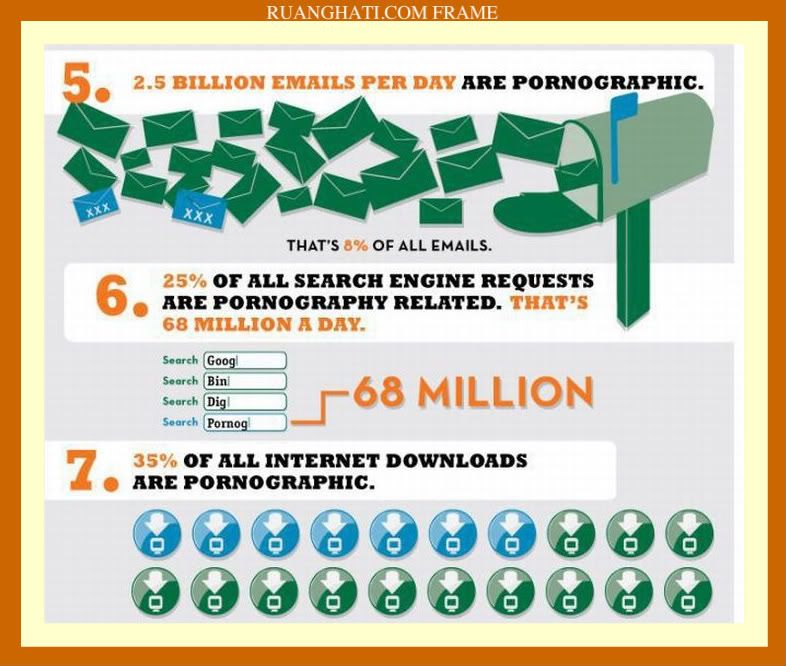 Per hari ternyata ada 2, 5 juta email porno terkirim dan tersebar, wah sangat mencengangkan bukan, hal tersebut setara dengan 8 persen peredaran seluruh email dalam sehari. Data lain yang tak kalah mencengankan adalah 25 persen pencarian konten di mesin pencari ternyata adalah pencarian konten porno. Walah apa kurang kerjaan ya orang orang itu.
Dan satu lagi fakta yang membuat kita geleng geleng kepala yaitu ternyata kegiatan download itu sebagian besar adalah download materi pornografi, banyangkan saja 35 persen dari jumlah download adalah mengunduh konten tentang dan bermuatan porno, Astaga!!
--
You received this message because you are subscribed to the Google Groups "kl-bogel" group.
To post to this group, send email to kl-bogel@googlegroups.com
To subscribe or unsubscribe at
http://groups.google.com.my/group/kl-bogel/subscribe
For more options, visit this group at
http://groups.google.com/group/kl-bogel?hl=en
Sebarang email pertanyaan, hantar kepada abangmod@gmail.com